Comfort, Quality, Trust, Respect, Excellence
These five words embody the essence of our practice. The clinic was founded by in 1927 under the vision of Dr. Ram Lal Gulati. We have now entered as the fourth generation of Dentists in the family, each of us being highly specialized in our respective fields. At Dr. Sanjiv Gulati's Dental Care Premier, our continued mission is to provide professional dental services that are technologically current, with a commitment to excellence. Every patient is important to us. Our concern is that every patient is treated carefully with special attention to their comfort, their time, and their needs. Our clinic offers a wide range of expertise including Cosmetic Dentistry, Implants, Braces, Invisalign, OrofacialTrauma, and Restorative dentistry.
We strive to be of value to our patients with a goal to exceed their expectations and help them to achieve a healthy, beautiful smile.
Dr. Sanjiv Gulati
B.Sc., B.D.S.
Dr. Sanjiv Gulati (B.Sc., B.D.S.) graduated in the year 1983 from Bapuji Dental College, Davengere, Karnataka. Dr. Sanjiv furthered his education by attending numerous workshops in Dental Implants and Aesthetic Dentistry under the guidance of internationally renowned speakers.
Since getting into this practice, he continues to advance his education and contribution to dentistry.
He joined Civil Defence in the year 1997 where he actively takes part in social welfare. He has been serving as the Chief Warden for Civil Defence Gorakhpur since 2005.
He has been awarded with the 'President's Home Guard and Civil Defence Medal for Meritorious Service' on 15th August, 2006; and 'President's Home Guard and Civil Defence Medal for Distinguished Service' on 26th January, 2013, by the then Home Minister in New Delhi. He has also been awarded the Governer's medal in Uttar Pradesh.
Dr. Sanjiv is deeply committed to the well-being of his patients. He takes a thorough and precise approach to his consultations to ensure that he is consistently giving accurate diagnoses.
He has been awarded the "Gorakhpur Ratna" award for his work in the field of dentistry and social services by the Honourable Chief Minister of Uttar Pradesh, Shri Yogi Adityananth Ji Maharaj at the Gorakhpur Mahotsav in 2021. He was one among 9 awardees and the only one from the field of healthcare at the ceremony.
Dr. Surekha Gulati
B.D.S.
Dr. Surekha Gulati completed her dental education as a Gold Medalist from Government Dental College, Bangalore. She started as a Senior Resident in Dr. RML Hospital, New Delhi where she gained experience in the field of Oral Surgery. She then worked as a Dental Surgeon in Safdarjung Hospital, Delhi. She excels in root canal treatments and restorative dentistry.
Dr. Surekha strives to be at the top of her field by frequently participating in continuing education in dentistry. She recognizes that many patients may not be completely comfortable with visiting a dentist. Hence, she endeavors to make dental visits a low-stress experience with minimal discomfort.
Her top priority is to provide the highest quality dental care that completely satisfies her patients.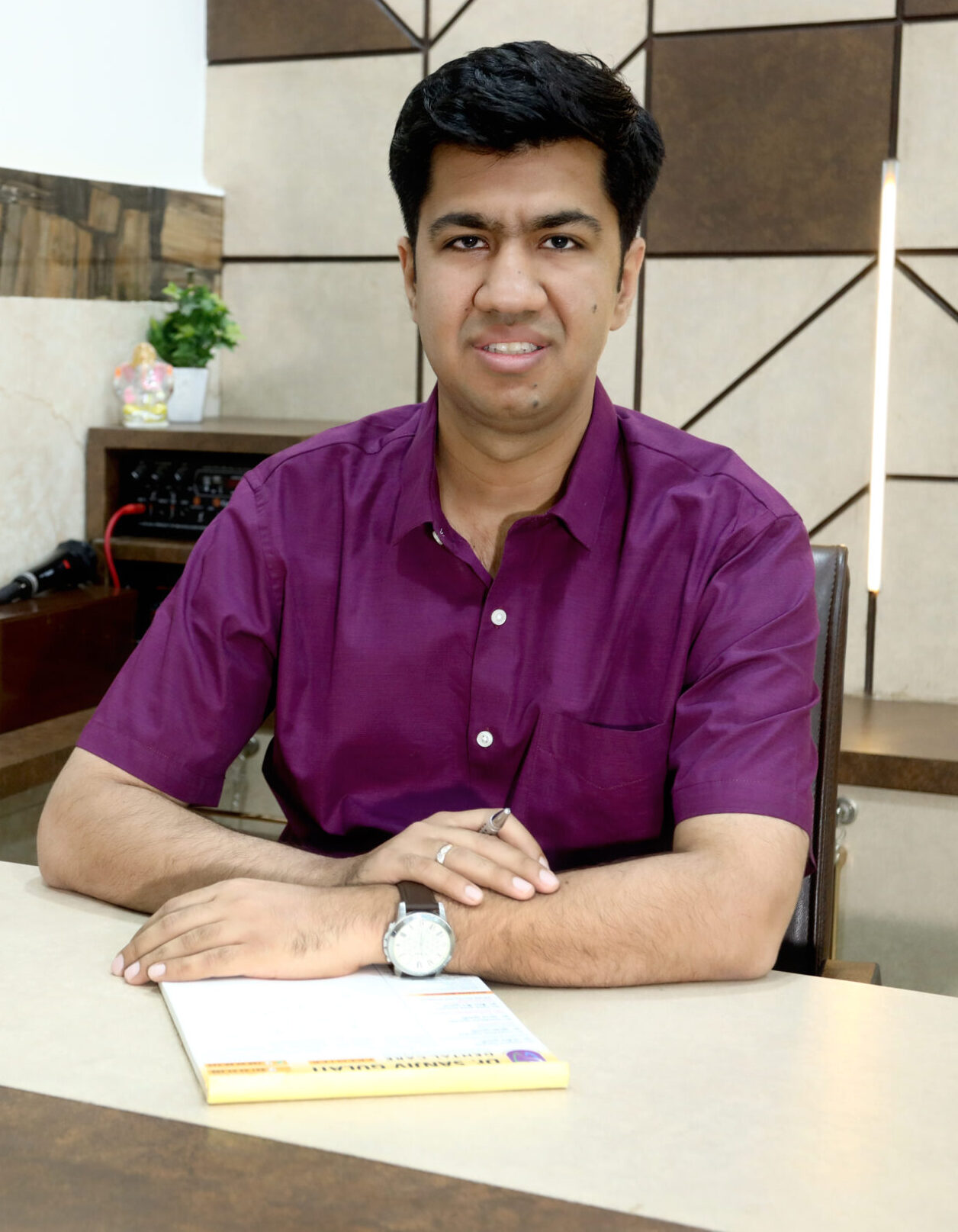 Dr. Shubhav Gulati
M.D.S. – Oral and Maxillofacial Surgery
Dr. Shubhav Gulati is an Oral and Maxillofacial Surgeon and Oral Implantologist. He has completed his BDS from the renowned Nair Hospital Dental College, Mumbai. He then went ahead and obtained his Master's Degree in Oral Surgery from Government Dental College, Trivandrum. He then joined as a senior lecturer in Government Dental College, Alleppey, Kerala.
Dr. Shubhav has specialized in surgeries of the Head and Neck including orofacial traumas, fractures, cyst and tumour removals, jaw joint disorders, orthognathic surgeries, facial neuropathies and oral cancer. He is a certified Implantologist from the Internation Implant Foundation (Germany) and is pioneering the art of Dental Implants in Gorakhpur. His area of expertise in Dental Implants ranges from simple replacement of a missing tooth/teeth to full mouth rehabilitation.
Dr. Shubhav strives to provide the best quality of care as well as the most comfortable dental experience to all his patients both children and adults. He is passionate about staying up to date with current techniques and technologies in dentistry and is always finding ways to further his training.
He has been awarded by the Honourable Deputy Chief Minister of Uttar Pradesh, Shri Brajesh Pathak at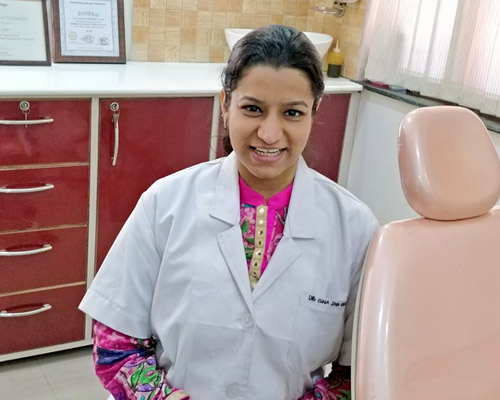 Dr. Isha Jain Gulati
M.D.S.  Orthodontics and Dentofacial Orthopedics
Dr. Isha has graduated from Nair Hospital and Dental College, Mumbai and has completed her MDS in Orthodontics from KLE University, Karnataka. She secured the first rank and is a Gold medalist in her University. She is also associated with Savitri Hospital where she treats patients with Cleft Lip and Palate for free in collaboration with Smile Train.
Dr. Isha specializes in Orthodontics (Braces). Her specialty includes diagnosing irregularities in teeth from a very young age and hence being able to correct it early. She is accredited with publications in International Journals. She has attended multiple workshops and conferences and specializes in Lingual Orthodontics, Clear Aligners (Invisible Braces) and Mini implants, which helps in faster treatment. She is a Certified Invisalign provider. She has also surgically corrected many patients with facial deformities.
She also takes the keen interest in Smile Designing with the help of Braces, Crowns, Bridges, Veneers (Laminates) and Dental Implants and has an entire team dedicated to it.
She has been invited as a speaker at the Indo Cleft Conference in Belgaum in the year 2023 for her work

The most recommended dental clinic. Was there for my child(who at times got so difficult to control) but Dr. Shubhav sir  was so calm while dealing with him. The patience and commitment is commendable.

Best Dental Care is Our Mission
contact@gulatidentalclinic.com